Lockout Tagout Kits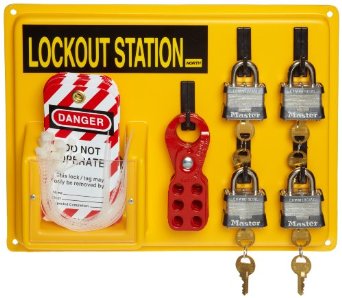 The number one problem with healthy machinery, tools, and equipment is that they are both dangerous and easily damaged and most employees do not understand the large safety issue they present until it's too late.
This is why it is vital to have a lock and tag safety procedure built into the workday so that employees have no choice but to properly shut off and store equipment, tools, and machines at the end of the day.
Get the Right Lock Out Tag Out Kits for your Industry
You can purchase lock out tag outs kits for every type of machine in a warehouse, factory, or equipment room and they will make sure that all tools are properly turned off. These specialty locks will not work unless the machine has been shut down according to safety instructions.
This is important because a properly shut down machine will not be able to operate again until the lock is removed. The tag alerts employees that the machine should stay shut down.

If you are not aware of what lock out tag out devices and kits your specific business will require speak with a safety head personnel or a consultant from the company. There is a lockout tagout for every machine out there and the protection they provide is immeasurable.