Men's Work Shirts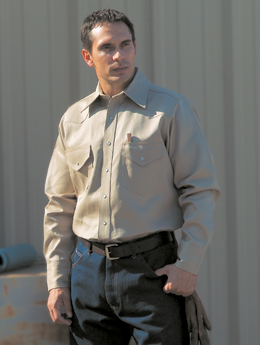 A man who has a tough job needs a tough shirt. Unlike other work shirts, our hazard risk category shirts don't look like work shirts. While they are made of durable material, they are so attractive you might want to wear them outside of work. Each style is fashionable, and all are available in various vibrant colors.
Comfortable and Durable Work Shirts for Men
Our Men's work shirts are designed with a lay down collar, tapered cut, and button front closure. The cuffed sleeves have no vents and have a two button adjustment. The two breast pockets come with buttoned flap.
For a more casual look, we also have t-shirts. Our t-shirts are made of 100% cotton jersey knit and have wicking and a antimicrobial finish to prevent odor and wetness. The neckline is made from rib knit with spandex for easily pulling on and off. Back drop hem ensures that the shirt stayed nicely tucked in.
Whether you're a medium, a large or an extra large, we offer multiple sizes to ensure an incredibly comfortable fit. Grab one today!